Extra

This is the private part of the page where only the people I know go. My America online screen name is tel880 and you could email me by adding @aol.com so you could tell me your opinion of it. Thanks for visiting.
A NEW WEBSITE IS HERE! THE DAWKINS HUBB, THE PLACE FOR GAMES, CLICK
HERE
TO GO there.
Make sure you sign the guest book.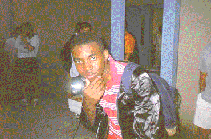 Yes this is my brother.